J2tail
J2tail is just another tail application. The main difference is: it is a web application. So it runs on a J2EE server (p.e. Apache Tomcat). This enables developers, system administrators, users, etc to 'tail' log files from their browser with great ease. Users do not need to have direct access to the file system of the J2EE server to access the log files. This is one of the great benefits of J2tail.
J2tail was build with ease in mind. It is easy to install, configure and use!
J2tail has the following features:
When new data is added to selected file, it is shown in your browser automatically.
'tail -f' / follow functionality.  The application will show the end (aka tail) of the selected file. This can be turned off.
The interval for checking for new data can be configured.
The data available from the selected file can be cleared. This helps to identify the new data.
The entire selected file can be reloaded too. P.e. when you cleared the file before, but want to see the entire file again.
Shortcut keys are available for easy access to the features. Hover over the buttons in the application to see them.
The major settings are stored in cookies per server. So when you return to the J2tail on a server, J2tail still knows the file you accessed last.
To search the file shown you can just use the search from your favorite browser.
By using the browser you also have MDI functionality: just open another tab.
The files available in J2tail can be configured in a simple properties file.
Wildcards are supported in the configuration.
The files can be accessed from J2tail by a configured key. So the users do not need to know the full path.
The order of the available files can be configured too.
More information on how to setup J2tail.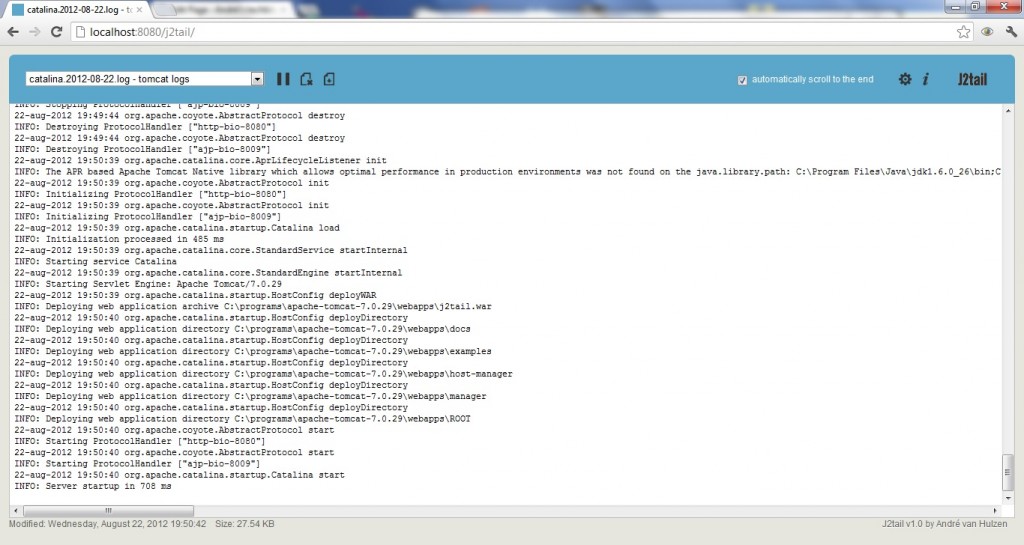 Once J2tail is installed and configured, users can access the configured files with J2tail from their browser, like this http://yourJ2EEserver:8080/j2tail. Of course the server name and port depend on your situation.
Available downloads
| | | | |
| --- | --- | --- | --- |
| Version | Binary distribution (includes .war) | Source distribution | Notes |
| 1.0 | Download | Download | Initial version |